In light of the nationwide lock down, we want to reassure you that we remain open for business, being classified as an essential business providing 'relevant support services' and manufacturing critical products for the food and beverage processing industry. We have registered with the Government and are waiting for confirmation.
Operating Capacity:
Whilst we remain open, there will be reduced staffing in our offices as several staff are working from home. With our cloud-based computing systems we are able to keep operating with relative normality. We have made provision for multiple staff to be able to handle phone enquiries so whilst there may be some delays, we expect the bulk of our amazing team to be
operating as per normal.
Covid-19 Statement:
See
here
for our internal Coronavirus Statement, which is policy we have already adopted for dealing with this pandemic at Hygiene Technologies.
Production Update:
As you would understand, we have been
experiencing an unprecedented volume of orders
during March, particularly for hand and surface sanitising products. To ensure none of our customers are disadvantaged, we have
started rationing both our Alcofoam and Ethasan products
based on your previous usage but allowing for increased use during this pandemic. Thankfully this is working well meaning we are one of the few manufacturers that still have product left for our existing customers.
We are working on a range of options to secure essential ingredients and packaging, as well as increasing our production capacity to keep up with the demand for these products and the relevant dispensing options. Despite our best efforts to date with managing the extra volume of orders,
we are currently operating an average of 4-5 days behind
in manufacturing and dispatch of orders. We will endeavour to communicate this to you wherever possible but please be understanding of the likely delay, thank you.
Returns:
Please be aware that due to the circumstances, our
standard return policy
will not apply. We will not be accepting any returns of extra volume of products ordered in light of the pandemic until further notice. Once the outbreak is deemed to be over our policy on all products will return to normal.
Contact details:
Please contact
solutions@hygienetech.co.nz
(or select option 2 on the phone) for sanitiser or price enquiries. If you would like to place or enquire about an order, please contact
orders@hygienetech.co.nz
(or select option 1 on the phone). We will keep you informed on this page of any updates as they develop.
Order Collections:
We are unable to continue to offer any collections of orders from our trade counter due to reduced sales staff and to stop the risk of infection. Couriers and Transport operators are continuing to serve as per their normal schedule.
These are a great tool for positive reinforcement and we only have a limited number printed – first in first served!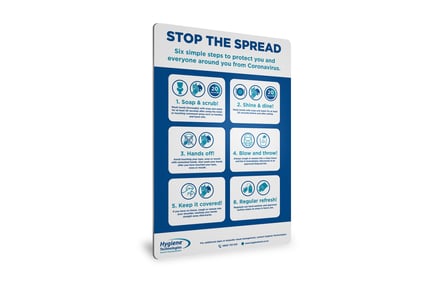 We trust you all keep safe and well during these unprecedented times. We have a positive and energised team working hard to keep things rolling. This current challenge will soon pass - Stay positive, find the opportunities, use a growth mindset!

From the team at Hygiene Technologies.